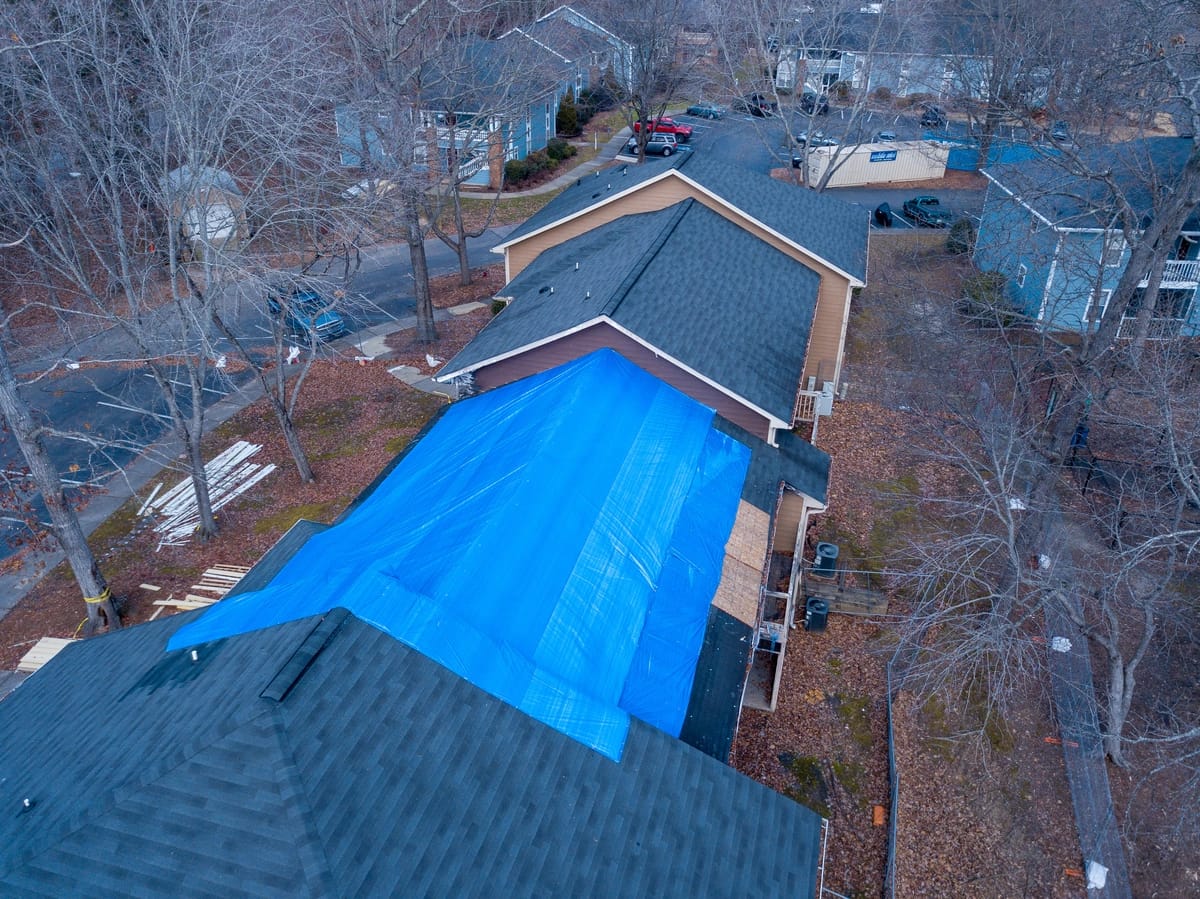 Andrew Gasper
6 minutes READ
If you live in Oklahoma City, then you know you're right in the path of the infamous Tornado Alley. Of course, you also know that tornadoes aren't your only problem, as the city also sees its fair share of hail storms, high winds, and ice.
That's why finding a roofer your business can depend on post-storm is essential to your everyday operations. With so many to choose from, we decided to compile a list of the most reliable commercial roofing OKC contractors around.
These are our top seven:
1. Palladium Roofing
Palladium Roofing is one of just 300 commercially-endorsed roofing companies in the entire state of Oklahoma. This means that the family-owned and operated company holds some of the most important certifications and continues to undergo education in materials, training, and more.
The team at Palladium Roofing also has decades of industry experience, with hundreds of commercial roofing projects completed. They also pride themselves in their efficiency as the company understands the importance of having minimal disruption to your business's daily operations.
Google rating: 5.0
Address: 2100 N Eastern Ave Ste 7, Moore, OK 73160
Real 5-star review: "Trustworthy, responsive, knowledgeable, and friendly! You should definitely use Palladium for your next roofing project or repair."
2. Standard Roofing Company
While Standard Roofing Company also handles residential clientele, the company primarily specializes in commercial roofing. They're known as Oklahoma's premier roofing and sheet metal contractor, as they've been in business for more than 124 years.
Whether your business requires new construction or simple repairs, Standard Roofing has you covered. They also provide industry-leading warranties, including the Max Life Warranty, which comes with Max Life Roof Care to make sure your business's ongoing roof maintenance needs are met for years and years to come.
Google rating: 5.0
Address: 19 NW 16th St, Oklahoma City, OK 73103
Real 5-star review: "This company does a 10/10 job installing roofs. I have never been more satisfied. I'm definitely calling this place every time I need it."
3. Statewide Roofing
Statewide Roofing is another family-owned roofing company that deals in both commercial and residential roofing services. With over 25 years in business, the company is in its third generation of family operations, and for good reason.
They offer free storm inspections and provide the community with a 24-hour emergency support hotline. The hotline allows business owners to call in and schedule emergency roofing repairs when needed, and the company is certified as an Owens Corning Platinum Roofing Preferred Contractor. This means they have the training and know-how to install top-level roofing materials, and they back their work with industry-leading warranties.
Google rating: 4.8
Address: 5001 E Interstate 240 Service Rd, Oklahoma City, OK 73135
Real 5-star review: "Very satisfied with the services of Statewide Roofing. Jason Swafford and the Team at Statewide did an amazing job with a complete tear off and replacement of our business roof…"
4. Oklahoma Roofing & Sheet Metal, LLC
Oklahoma Roofing & Sheet Metal is another one of Oklahoma City's leading commercial roofing companies. They've been in business since 1983, and the team has decades of collective industry experience.
The roofing company utilizes a combination of expertise and technology to provide the best commercial roofing services possible. They've proudly completed commercial, governmental, and communal projects over the past 30 years, and they even offer 24/7 emergency roofing services.
Google rating: 4.5
Address: 1708 Lowry Ave, Oklahoma City, OK 73129
Real 5-star review: "Great team Tim Treadaway is the man for metal roofing…"
5. Yates Roofing and Construction, LLC
Yates Roofing and Construction has been in business for more than 30 years, and they specialize in both commercial and residential roofing services. They're also in the top 2% of roofing contractors that have achieved Master Elite status with GAF, which means they're certified and trained to work with the best roofing materials out there.
The team at Yates Roofing provides business owners with same-day inspections for commercial roofing systems whenever possible, as well as emergency storm services.
Google rating: 4.8
Address: 3422 NW 135th St, Oklahoma City, OK 73120
Real 5-star review: "After a storm significantly damaged our shop I called Yates for help. James Ford and his Yates crews came to the rescue and rebuilt the shop with excellent quality, superb professionalism, and responsiveness…"
6. A Step Above Roofing & Construction
A Step Above Roofing is a local, family-owned and operated roofing company that specializes in customer satisfaction. They've been in business for more than 20 years and have a countless amount of time working in the roofing industry, providing solutions for residential and commercial spaces.
The roofing company also specializes in storm damage restoration and uses advanced technology (including drones) to assess and determine the best course of action for all roofing projects. They also offer free realtor inspections as well as routine inspections and maintenance services to ensure your business's roof or roofs are strong for years to come.
Google rating: 4.6
Address: 10320 Greenbriar Pkwy, Oklahoma City, OK 73159
Real 5-star review: "…They're efficient, hard working, and will always have your best interest at heart. Highly recommend them…"
7. Advantage Roofing
Advantage Roofing is where commercial and luxury roofing intersect. Offering premier roofing services throughout all of Oklahoma for both residential and commercial space, Advantage Roofing is unmatched when it comes to TPO, metal, and coating roofing solutions.
The roofing company is licensed, bonded, insured, and commercially endorsed. What's more, the team is heavily invested in continuing their education within the roofing industry to stay on top of industry standards, emerging roofing technology, and more. They also offer emergency services and have a 100% satisfaction rate.
Google rating: 5.0
Address: 4700 S High Ave, Oklahoma City, OK 73129
Real 5-star review: "It has been a pleasant & stress free experience working with Jason Martin & the Advantage Roofing team. Jason is 100% hands on from the beginning of the process to well after everything is completed."
Your Business Is in Good Hands With Palladium
While your business would be in good hands with any of the commercial roofing OKC companies on this list, the team at Palladium is ready and eager to show you why they're the best option in all of Oklahoma City.
Get in touch with our roofing specialists at Palladium Roofing today to book your free commercial roofing inspection!