Andrew Gasper
4 minutes READ
Owning a home requires a lot of maintenance, including your roof! If your roof becomes damaged, you may need to file an insurance claim. But, how do you know if you need to file an insurance claim for your roof? We get this question all the time, so we've put together a handy guide on whether you should file an insurance claim or not.
Filing an insurance claim for your roof may seem like a no-brainer, but there are a few things to consider first.
An insurance claim is a formal request for compensation from your insurer. When you file a claim, you're asking the company to pay out money to cover any damage or loss.
Filing a roof claim can seem like an obvious step after something goes wrong—especially if it's something that could happen again in the future—but there are many factors at play when deciding whether or not to file. First and foremost:
Get your roof inspected first
Find a roofer who you trust and will be your advocate
Roof replacements are not always necessary; sometimes damage can be repaired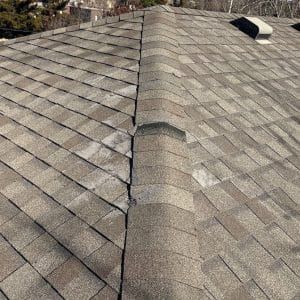 Get your roof inspected before filing a claim.
Before filing an insurance claim for your roof, you should get your roof inspected. This is crucial to prevent any mistakes that could cost you later on.
If your roof is still under warranty and has not been damaged, you may be able to resolve the issue with the contractor who installed it. They may be willing to make repairs for free as part of the warranty agreement or warranty period (which varies by company).
There have been instances when a homeowner filed a claim without proof of damage or a proper roof inspection, leading to their claim being denied. That stays on your claims history, so it's best to have a professional inspect it first to determine if filing a claim is even necessary.
Get professional advice from a reliable roofing contractor and ask some questions before you make any decisions. You'll be glad you did!
It's crucial that you find a roofing contractor you can trust to be your guide and advocate. Make sure you do a little research about the roofers near you and ask questions to get a better understanding of their knowledge and experience.
Don't be afraid to ask questions. If you aren't sure about something, be sure to speak up! That's what we're here for.
Don't be afraid to ask for references. We love showing off our work and the satisfied customers who have used us.
Don't be afraid to ask for estimates. The best way to know how much your roof will cost is by getting an estimate from your contractor.
Will a roof claim increase insurance?
Filing an insurance claim can cause your premiums to increase, but it depends on a variety of factors, such as:
Extent of the damage: the more damage there is, the more it's going to cost to get it fixed.
Where you live: the cost of materials and labor varies on where you live.
Your claims history: if you've filed claims in the past, insurance companies will most likely assume you will file another claim in the future.
Homeowner insurance rates will increase if your insurance company believes you will file another claim in the future. This is why your claims history matters, and why we ask homeowners to wait for an inspection before filing the roof claim. Again, filing a claim might not even be necessary!
Conclusion
Filing an insurance claim for your roof can be super stressful, but with Palladium Roofing, you are not alone! We will be your guide and advocate throughout the entire process to ensure you are taken care of and everything is covered.
We will take care of your roof and your insurance claim, so you can relax knowing that everything is taken care of. If you have any questions or would like to schedule an inspection, please call us at (405) 726-0432 or fill out our contact form.